Hunting Dogs
Mountain Sky Ranch is the home of Mountain Sky Retrievers, a breeding and competition business.  We have owned, bred and competed with Golden Retrievers and Brittanies for over 35 years.  Our Ranch property was chosen specifically because of its water rights and its field training grounds attributes. 
We have groups of retriever trainers from around the country visiting and training at our property on a year around basis, and we have several competition events each year at the Ranch.  We have hosted the Flat Coat Retriever Club regional working certificate competition, the irish setter national field championships, and the Mile High Golden Retriever Club winter training series.  We thank each and everyone who has ever trained here at the Ranch for their support of our efforts.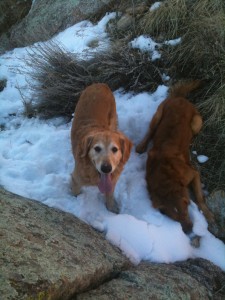 We hope you consider one of the few dogs/puppies we have for sale on a periodic basis, or at the very least just call us at 303-495-3705 and schedule a time to come and visit us. You can also email us at wayne@ecolonimcs.org .